Kabianga University Fee Structure 2023 [PDF] Download. In Kenya whenever the terms "University" or "UoK" are used they shall mean the University of Kabianga. Check latest Kabianga University Fee Structure for all courses Undergraduate, Diploma and Certificate Programmes in all its Campuses. (Main, Kericho, Kapkatet, and Sotik).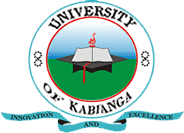 Kabianga University Fees Structure
All students are required to deposit fees payable to the university's accounts. You can also get the Application Forms from Admissions Office at Main Campus, or Kericho Town Campus Reception or Kapkatet Campus ReceptionThe following non-refundable fee is chargeable during application as follows:

Certificate and Diploma Programmes: Ksh. 500
Undergraduate Programmes: KSh. 1000
Postgraduate Programmes: Ksh. 2000

A candidate who requests for a remark shall pay a non-refundable fee of One Thousand Kenya shillings (Kshs.1000), per paper, or such other amounts as may be determined by Senate.
Download Kabianga University Fee Structure PDF
You can access your fee structures from the website link – http://kabianga.ac.ke/main/downloads/fee_structure
School of Science & Technology Fee Structure
School of Natural Resource and Environmental Management Fee Structure
School of Information Sciences & Knowledge Management Fee Structures
School of Education Fee Structures
School of Business and Economics Fee Structures
School of Arts & Social Sciences Fee Structures
Fees And Bursaries
a) Non – Kenyan Students
All Non – Kenyan students must produce evidence of adequate financial support before coming to the University. The evidence must be in the form of a letter from sponsoring body guaranteeing adequate financial support for the entire duration of the course. Fees will be collected at the time of registration.
b) Clothing, Pocket money, Laundry
Non – Kenyan students are advised to bring with them an adequate amount of money
per Semester for the above expenses and other incidental expenses.
Fees Refund
A refund can be made to the student as per the fee payment policy;
(i) when students have cleared and graduated and any excess fees originate from the students.
(ii) Excess fees arising from bursaries, donations, HELB are paid back to origin/source.
Procedure for refund shall be as follows:
a) Students should fill in the refund forms within the time frame and attach evidence i.e. fees statement.
b) The student finance section will then verify the refunds request with the student records.
c) A schedule should be prepared and forwarded to the Finance Officer for approval and payment.
d) For caution money, the refund request should be supported by a list of duly cleared students, an imprest is then raised for payment.
NB: Payment of refund other than for final year students is subject to provisions of Fees payment policy.
See also