Egerton University (EU) Admission and Application Form 2023/2024. This page will guide all the students about the Egerton University Admission process as well as the application form required for the admission into Diploma, Undergraduate, Postgraduate, and Ph.D. courses. admission. However, we will would you How to Apply at Egerton University?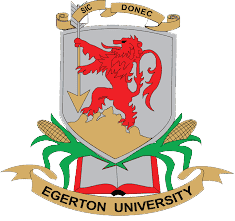 Egerton University Application Form
There are two ways to for apply the application form for the admission into different courses. All the application must go through the "Egerton University Admission Requirements" before apply to the EU.
1. How to Apply Offline?
Offline: To apply for admission to Egerton University Download the application forms from www.egerton.ac.ke, pay the required application fees and submit a duly filled form to the Registrar (Academic Affairs).
Step one: Download your required application form (link is given below)
Step two: Print it and Fill up carefully.
Step 3: You need to pay the required application fees.
All applicants for registration shall be processed in the first instance through the relevant Department in which registration is sought.
2. How to apply Oline?
Online: Egerton University Online Application will help you to the same in only. It is a very easy process for selecting a course and applies for admission.
Step one: Visit to application.egerton.ac.ke
Step two: Check Available Intakes
Step 3: Click on the intake option you would like to apply.
Step 4: Now select your "Programme"
Step 5: Click on apply now button.
Step 6: Now Register Page will open, fill the form and register your self.
Step 7: Here a message will appear "Do you want to apply for YourCourseName" Click on YES or NO.
Step 8: If Yes, then "My KCSE" form will appear. Fill it up and submit.
Step 9: Then if required you may add your qualification using "My Academic Qualifications form"
Step 10:  Now  You need to pay the required application fees.
Step 11: After your Payment click on " Submit Application"
Now your application will be under "Review"

Download Application Form
See also: