Kabianga University Location and Contacts Information. Get the latest location of all campuses (Main, Kericho, Kapkatet, and Sotik) and their contacts number (phone, email) e.t.c. University of Kabianga (UoK)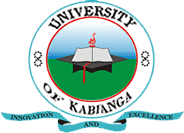 Kabianga University Location
The University is situated in the famous and lush tea growing highlands of Kericho in the South-Western end of the Rift Valley Province of Kenya and within the proximity of the famous multinational tea growing companies, Unilever, James Finlay and George Williamsons.
The University is about 26 Km from Kericho Town along the Kericho-Kisii Road. One can take a direct vehicle to University from Kericho Town main bus Stage OR take the vehicles heading to Bomet/Sotik/Kisii and alight at "Premier" junction then travel about 6.2 Km on the murram road towards Sondu.
Those traveling from Narok or Kisii should alight at "Premier" junction. For those admitted
Arrival Time
Students are expected to arrive between 8.00 a.m to 5.00 p.m on the opening day for registration. Any student arriving after 5.00 p.m will not be registered nor be given accommodation until the following day.
Physical Contact
The University of Kabianga is located 21 km from Kericho town and 6km off the main
Kericho – Kisii road on the junction at premier dairies. Correspondent contacts are:
The Vice Chancellor
University of Kabianga
P.O Box 2030-20200
Kericho
Tel: + 254 202172665
Fax: + 254 518003970
E-mail: vc@kabianga.ac.ke
Website: www.kabianga.ac.ke
See also