South Eastern Kenya University (SEKU) Campuses Contacts and Address: Get full address, contacts and campus location.
SOUTH EASTERN KENYA UNIVERSITY is a fully-fledged Public University which was awarded Charter on 1st March, 2013 by His Excellency Hon. Mwai Kibaki, the former President of the Republic of Kenya and Commander in Chief of the Defence Forces.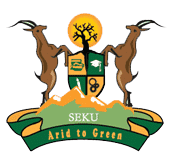 Location: The University Main Campus is located in Kitui County in a serene and conducive learning environment, 12 Kilometers off Kwa Vonza Market, along the Kitui-Machakos main road.
SEKU has witnessed tremendous growth and currently offers various certificate, diploma, undergraduate and post graduate programmes. The University has other campuses namely Kitui Town Campus, Machakos Town Campus, Wote Town Campus, Mtito Andei Campus and Nairobi Town Campus.
MAIN 
CAMPUS
South Eastern Kenya University
P.O. Box 

170-90200

KITUI, KENYA
Tel:

+254 748 60 59 96/7

info@seku.ac.ke
Kitui Campus
P.O. Box 170-90200
KITUI, KENYA
Tel:+254  727 714 044

kituitowncampus@seku.ac.ke
Machakos Campus
P.O. Box 2643 – 90100
Machakos County, KENYA
Tel: +254 728 744 488

machakoscampus@seku.ac.ke
Wote Campus
P.O. Box 441 – 90300
MAKUENI, KENYA
Tel:+254 704 122 140

wotecampus@seku.ac.ke
Mtito-Andei Campus
P.O. Box
KITUI, KENYA
Tel:+254 731 435 934

mtito-andeicampus@seku.ac.ke
See also