Kenya Methodist University (KEMU) Exam Results – How to Check and Download? The university has its own process for approving and declaration of examination results after each semester. All the students may check and download the Kenya Methodist University Exam Results by using KEMU Student Portal.
Kenya Methodist University Exam Results
There are two levels of moderation. All examiners who taught courses are invited to participate..
Moderation of the course. The DBE reviews all the examination results for courses taught in the Department. Each paper is moderated for the standard of marking – fairness, consistency, adherence to marking scheme and level of grading. The DBE satisfies itself that the examination represents a satisfactory assessment of the course.
Moderation of performance of candidates. The DBE reviews the performance of each and all candidates and ensures that the distribution of marks is normal and within expected ranges. Any anomalies are discussed and explained. The grading of internal and external examiners are reconciled and gross differences arbitrated.
The DBE may at this stage adjust grades if necessary. Individual examiners enter the grades.
The Chairman of Department, the Examiner and the Examination officer endorse the DBE's decision by signing a certificate of approval of the results.
The Chairman of Department or Examinations Officer presents the recommendations of the DBE to the Faculty Board.
The Chairman of department submits the consolidated performance schedule indicating individual student's grades to the Faculty Dean, who oversees the calculation of the respective GPAs for all the candidates.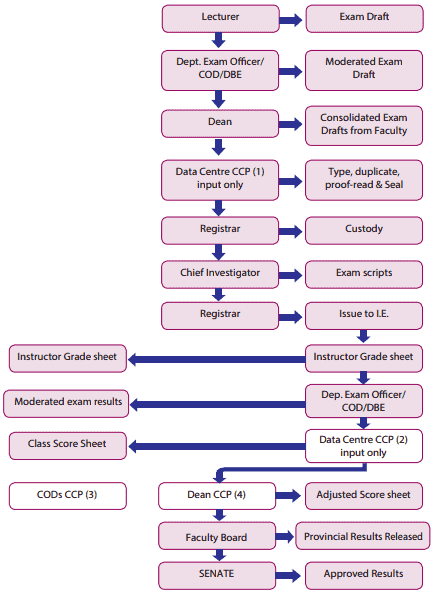 How to check KEMU Exam Results
All the students may check their examination results through the student portal of KEMU. Follow the steps indicated below to access the students' portal
Visit the University website www.kemu.ac.ke
Check the Main Menu – Go To Student
Under the submenu click on "Student Portal".
Login to the portal.
Check left sidebar Under "Dashboard"
Click on "Academic"
Under this option, you can see the "Results" option.
Finally, click on it for details.