Nyadire Teachers College Student Portal Login Page. students may log in through the nyadireteachers.ac.zw Page: All new and running student must have an account with the online portal. This web portal is designed by  Binary Software (Pvt) Ltd.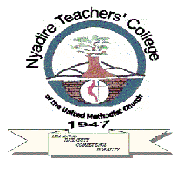 Nyadire Student Portal
The Nyadire Teachers College is located at Nyadire, Zimbabwe. Returning students and those who are on teaching practice are being adviced to register online using the student portal.
Intake 19 and ECD 8 results are out. Just log in to your student portal and view your results. For those who want to collect their transcripts can do so by visiting the college campus starting Monday 27th of August 2018.
How to Register with the Nyadire Student Portal?
If you are a new student you must register your self with the student portal. First visit to the official website nyadireteachers.ac.zw. Then form the main menu click on "Student Portal". After that, you have to fill the following data.
Enter your ID number( Please don't leave spaces)
Sex:
Marital Status:
EC No (if applicable):
Address:
Email:
Cellphone:
Program :
Intake :
Year Enrolled :
Country of Origin:
Next of Kin:Name:
Next of Kin:Number:
Next of Kin:Address:
Relationship:
Enter your Student Number:
Enter your New Password):
Re-Enter your Password:
Finally, Click on the Register button.
Nyadire Student Portal Login @nyadireteachers.ac.zw
All Current Students must have their own account with the student portal. To login the portal you must remember the following steps.
Visit official website nyadireteachers.ac.zw
At the main menu click on "Student Portal"
OR Type nyadiretc.webstudentportal.com in your web browser.
Now the Student Portal Login will appear.
Now enter your User Name
Finally, click on login.
Link
See also