Nyadire Teachers College intake And Application Form 2023/2024
Nyadire Teachers College is an institution of the united Methodists Church (UMC) and is situated 165km East of Harare in Mutoko district of Mashonaland East province, Zimbabwe. The college started training primary teacher lower (PTL) in 1947. The first batch of students was recruited after passing standard six.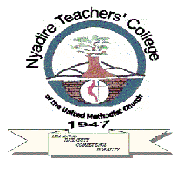 Intake
Courses:
The college offers a six-week in-service training of paraprofessional in early childhood development. these are certified by the ministry of primary and secondary education.
Bachelor Of Education Degree In Early Childhood Education
The Bachelor of Education Degree in Early Childhood Education IS a three  (B) year block release residential programme designed for qualified teachers who have background study in Early Childhood Education, The programme shall be offered in six semesters broken into have blocks of 4 weeks each. Each school holiday constitutes a block.
Admission Requirement
To eligible, candidates required to hold a teaching certificate or diploma in either Pre-School or Infant Education or its equivalent recognized by the Africa University and musl completed at least 2 years of post-training educational experience recognized by the Africa University.
Application Procedure
Interested candidates fulfilling the above-mentioned requirement must the following document to the Nyadire Teachers College address.
To apply to Nyadire Teachers College you first of all download and complete the application form, attach all the documentation required for admissions and send the documents to the college.
See also