Moi University Hostels Accommodation and Booking 2023/2024.  Moi University Hostels, Application Form, Payment, Accommodation, and Booking.
Application For Hostels Accommodation
1. Candidates must download and fill up an application form Moi University Hostels Accommodation and Booking.
2. This application form should be completed by each student who wishes to be considered for Rental Accommodation available in the Main Campus, and Town Campuses.
3. The completed form should be sent to:- THE DEPUTY REGISTRAR, HOSTELS MOI UNIVERSITY, P.O. BOX 3900, ELDORET. 
Not later than two weeks before the beginning of each semester.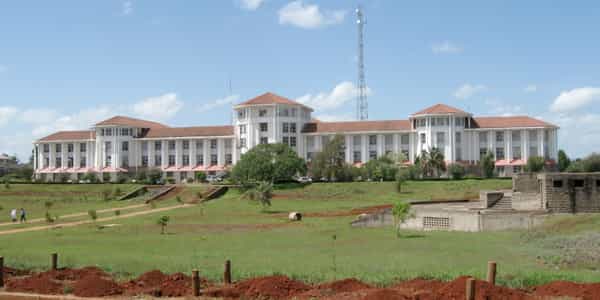 Types of Accommodation
TYPES OF ACCOMMODATION

Fees / Sem (KSHS)

CATEGORY 1: SINGLE OCCUPANCY-
Senior Students Fifth years only

Main Campus: Ngeria Hostels
School of Medicine

CATEGORY II: DOUBLE OCCUPANCY-
Fifth and Fourth Year Students only.

Main Campus: A, B, E and F

CATEGORY III: TRIPPLE OCCUPANCY-
CATEGORY IV: QUADRUPLE OCCUPANCY
CATEGORY V: DOUBLE DECKER TWO IN A ROOM

Main Campus: H, J, K, L
M School of Medicine
SINGLE OCCUPANCY  – IN ALL CAMPUSES

2750.00/=
2750.00/=
5000.00/=

CATEGORY VI: Single Occupany:
TOWN CAMPUS

School of Law
College of Health Sciences
School of Hospitality, Tourism & Events Management
Room Booking Process Online:
All rooms shall be booked online as outlined in the procedure below.
1. Visit the University website www.mu.ac.ke scroll down that page under ONLINE SERVICES click Room Booking Portal or visit the student portal directly by clicking muhms.mu.ac.ke
2. You will require your registration number, ID number, and a working email address.
3. To use the system for the first time click Home then go to Retain/Book room then click on register
4. To book room:
i) Go to Retain/Book Room, :
ii) Enter your Username and Password and
iii) Click on login.
Follow the three steps outlined after logging in
5. After booking a room, wait for approval by relevant authorities and confirmation of booking status.
6. The booking form will be printed on the opening day by the School Accountant or assigned ICT staff upon confirmation of payment of requisite tuition fees.
7. The room booking form is to be presented to the Housekeeper alongside the copies of the accommodation banking in slip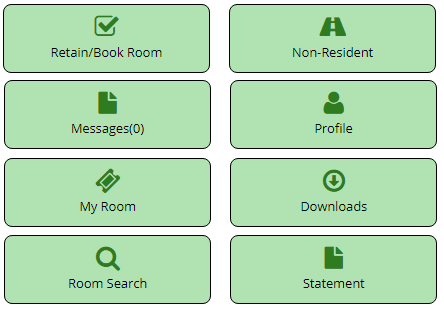 How to Make the Payment?
1. All payments must be made to the Moi University Accommodation Deposit Account: National Bank – 01021027999600. Kindly be sure to indicate your NAME and REG NO on the deposit slip.
2. The payments must correspond to the rates of the Hostel/Room booked.
3. Any false information will be treated as a disciplinary case.
Important Information
Only bonafide Moi University Students are allowed to book rooms using this portal.
Remember to visit the site for any latest communication.
Non-Resident Students
1. Follow directions as indicated in No. 1& 2 of booking procedure above
2. Fill the Non-Resident form
3. See the School Accountant for confirmation of requisite tuition fees.
Important Notes
1. Students can book their rooms online at https://muhms.mu.ac.ke as stipulated in MUJI/1C
2. The University reserves the right of allocation.
3. There is no guarantee of an applicant accommodation
4. The allocation of Bed space is provisional and only confirmed on full payment of required rent for the full duration of the Semester. Only then will the University assign keys and other items to the allottee.
5. Once allocated a room, the allottee will not be allowed to transfer except on permission on medical or such other approved grounds. The transfer must be in writing and approved by the Warden and Senior Hostels Officers.
6. The occupant will be held responsible for any loss of property or damage to the facility including fittings in the room.
7. Cooking and hawking/illegal trade are prohibited in the rooms and hostels premises Disciplinary action will be taken on those residents found in violation of this condition.
8. Any student found sub-letting the allocated room or hosting any other students or members of the public will face disciplinary action.
9. Residents are warned not to create noise or disturb other students by playing loud music or engage in any unbecoming activities that will be detrimental to other users in the hostels. Disciplinary action will be taken on those that do not obey this rule.
10. At the end of each semester, the residents must clear and hand over the University property at their disposal to the respective House Keepers. Failure to hand-over will result to a penalty which will be decided from time to time.
11. The students are expected to adhere to the University Rules and Regulations as contained in the Students Handbook.
See also
Resources