Every year the Mount Kenya University released the admission list for the student. This Admission List mainly prepared by the Kenya Universities and Colleges Central Placement Service (KUCCPS). However, Mount Kenya University (MKU) allow the student to access and download the latest Admission List.

MKU Admission List 2023/2024
As a matter of fact, the MKU only publish the Government sponsored students list. Hence, applicants are requested to visit any of MKU campuses across Kenya to pick their admissions letter or to download them from the student portal by following the process below.
From the student portal i.e. studentportal.mku.ac.ke
Go to applicants /new students
Enter the application ref or the index no /year e.g.    08237009083/2015 
Click generate applicant letter of offer
 Click Print /download letter of offer
Download the other attached documents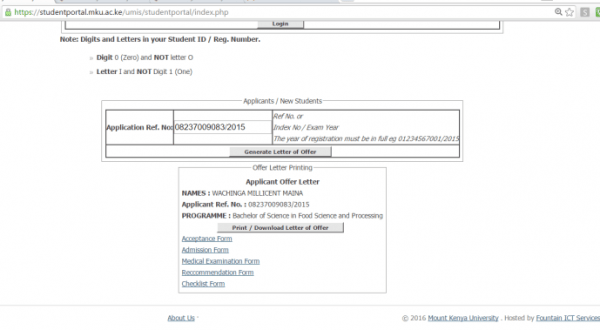 See also
Check Other Latest Topics