Kenya Methodist University (KEMU) Transcripts – How to get an Academic Transcripts? After successfully qualified for the semester examination. The KEMU allocate a Transcript for students of all courses. Students may check the Academic Transcripts from KEMU Student Portal.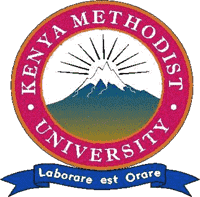 Kenya Methodist University Transcripts
A continuing student has issued a trimester transcript at the end of each trimester. The trimester transcript
covers the results approved by the Senate. The trimester transcript is co-signed by the Chairman of the
Programme Department and the Dean of the Faculty.
A continuing student may, on request, be issued a progressive transcript covering the work completed
at KeMU and approved by the Senate. The request is addressed to the Academic Registrar through
the Chairman of the Programme Department.
The progressive transcript is co-signed by the Chairman of the Programme Department and the Academic Registrar. A fee to be determined from time to time is charged.
Graduates will be issued the final transcript and the certificate. Transcripts and certificates are co-signed by the Academic Registrar. However, they may, on request and at a cost, be issued with a Provisional Transcript while waiting for the final transcript.
Certificates are issued only once but a letter of certification can be issued on request for a lost certificate at a cost. There are no duplicates of certificates.
However, the Registrar may maintain photocopies of certificates in the Archives. Certified duplicates of Transcript(s) will be sent to third parties upon request by a student. The request should
be presented to the Academic Registrar in writing. A fee will be charged accordingly.
Additional copies of transcripts may be issued for a fee.
How to check KEMU Academic Transcripts
Follow the steps indicated below to access the students' portal
Visit the University website www.kemu.ac.ke
Check the Main Menu – Go To Student
Under the submenu click on "Student Portal".
Login to the portal.
Check left sidebar Under "Dashboard"
Click on "Academic"
Under this option, you can see the "Transcript" option.
Finally, click on it for details.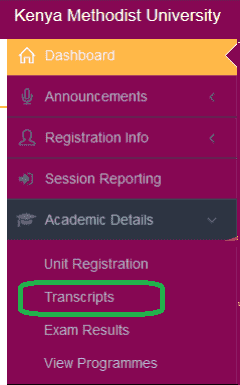 See also