Mount Kenya University just updated the final 14th Graduation list (August 2018) in a PDF file. This is the final 14th graduation list (as at 16.07.18). Students should visit MKU website and download the MKU Graduation List 2023/2024.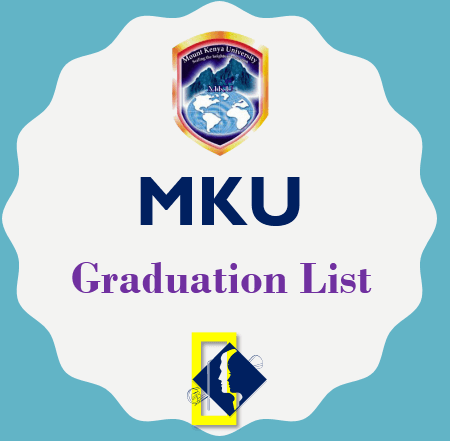 MKU Graduation List 2023/24
Every year the Mount Kenya University released Graduation list of different fields of school at end of final semester list.  The university conducted a convocation for graduate students. This Ceremony rehearsal is done by the departmental professor. On the same day, the university awarded merit students.
College of Heam Sciences
School of Business and Economics
School of Pure and Applied Science
School of Social Sciences
School of Law
School Postgraduate Studies
School of Computing and Informatics (SCI)
Institute of Film, Creative and Arts
Schod of Engineering, Energy and the Built Environment
School of Hospitality Travel & Tourism Management
Download MKU Graduation List August 2018
The following table shows the MKU Graduation List August 2018, just click on the PDF and download the list you may also check the latest list from the university website.
| | | | |
| --- | --- | --- | --- |
| Sl | MKU Graduation List | updated on | Download |
| 1 | Final 14th graduation list August 2018 | 16.07.18 | |
| 2 | Final 14th graduation list August 2018 | 2.07.18 | |
| 3 | Final August 2018 graduation list | August/18 | |
| 4 | 14th Graduation Ceremony Rehearsal Programme | August/18 | |
| 5 | 14th graduation list | 06.07.2018 | |
| 6 | 14th graduation list | 30.06.2018 | |
| 7 | School of Business & Economics full list | as at 22.6.2018 | |
| 8 | 14th graduation list | 22/6/2018 | |
Address
THIKA (MAIN) CAMPUS
General Kago Rd
PO BOX 342-01000 Thika
Tel: +245 067 2820 000
Cell: +254 709 153 000
Complaints : 0709 153 200
Website: www.mku.ac.ke
Email: info@mku.ac.ke
See also
Check Other Latest Topics