East Africa Institute of Certified Studies offers a wide range of courses ranging from Certificate, Diploma and Advanced Diploma. Check ICS College Kenya Admission, Fees, Courses, Requirement, Application form.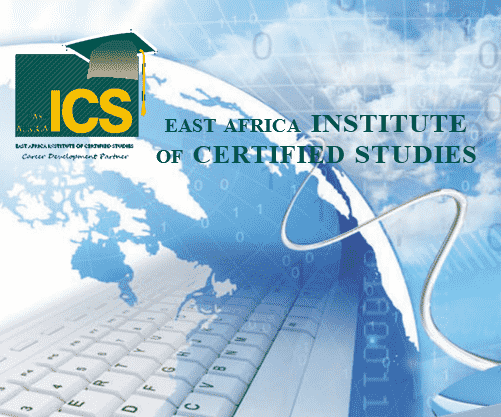 ICS College Kenya
Welcome to ICS College a leading, modern learning institution in Nairobi. One of the main goal is to provide students with quality learning experiences and support in finding fulfillment in education, employment, productive citizenship and lifelong learning;
Approved
Our college is approved and recognized by the Ministry of Education and accredited by local and international exam bodies such as KNEC, KAS NEB, ICM, ABMA, Cambridge International College, ABE, C& G, NAS COP, ICDL, INTEL, JP, among others.
Admission
Who can Apply?
To gain general admission to do a Certificate, Diploma or Advance Diploma Course at ICS College, you must have successfully completed your Secondary education qualification. For Artisan Course it is open to everyone including school dropouts.
How to Apply?
Send an application letter to info@ics.ac.ke or fill an online application form on our website www.ics.ac.ke
Courses
School of ICT and Engineering
School of Business
School of Beauty
School of Hospitality and Languages
School of Social Sciences
School of Media Studies
Short Courses
Admission Requirement
– Copies of previous Academic Certificates
– Copy of National ID/ Passport-
– 2 passport size photographs
– Registration Fee of Kshs 1,000
– Student ID card Fee Kshs. 300
– Library Fee Kshs 2,000
Other Requirement
– Continous Assesment Test Fee Kshs 1,000 per term.
– External Exam Fee; To be notified during admission.
– Practical Fee; To be notified during admission.
– Graduation Fee Kshs 2,000
– Caution Fee(Refundable after graduation) Kshs 1,000
– Activity Fee Kshs 200
– Attachment fees Kshs 2,000 (Paid once during the last term of the entire
course)
– Business Plan Fees (KNEC & ABMA students only) Kshs 1,000
– Teaching Practice assessment (ECDE Students only) Kshs 5,000
See also
For More  information:
Visit  us at Town Campuses on
Head Office
Stanbank House, 3rd Floor
Moi Avenue,
Next to Kenya Archives
Branch
Information House,1st, 2nd & 3rd Floor
Hakati Street, Opposite Ukwala Supermarker
Tel: 0722857455 / 0796826432
Email: info@ics.ac.ke | Website: www.ics.ac.ke
Check Other Latest Topics