University of Eldoret (UOE) Admission Letter 2023/2024: Students who are placed through Kenya Universities and Colleges Central Placement Service (KUCCPS), will be able to download UOE Admission Letter 2023. Only the Government Sponsored Students can access the Admission Letter from online.

University of Eldoret (UOE) Admission Letter
The university generates an admission letter for a student. It offers a student to place as a first-year student in the School of University to pursue a course leading to the Bachelor degree.
This offer is on the basis of your qualifications presented in your application forms. This
is also subject to satisfactory verification of these qualifications by the University authorities. Any information found to be false will automatically lead to your disqualification and expulsion from the UOE.
Students need to accept the admission letter with some conditions, applicants are required sign form UoEJI/1A. In case you are unable to accept this offer, kindly complete UoEJI/1B. Form UoEJI/1A or UoEJI/1B together with forms UoEJI/2, UoEJI/3, UoEJI/4 and UoEJI/5
(in case you are seeking for accommodation in the halls of residence) should be returned
to the University on the reporting date. Please note that this admission letter is an important
document that should be kept safe throughout your stay at the University.
Download UOE Admission Letter 2023
Follow the link http://www.uoeld.ac.ke/admissions-downloads or the steps below to download admission letters, fee structure, rules and regulation, and all the forms.
Visit www.uoeld.ac.ke
At the top main menu, click on "Admission"
Now click on "KUCCPS Admission List"
A new page will appear"Admission Letter"
Click on Download Admission Letter.
At this step, a form will appear.
Now "Choose the year of Admission"
Enter index number in the field below in this format: XXXXXXXX/2018 or Admission number ie ABT/001/18
Finally, click on "Submit"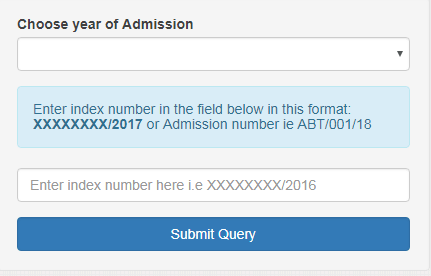 Note: Just below of the "Submit" button. You can see your name and download link of admission letters.
Please note the University of Eldoret does not accept M-PESA payments. Any transactions should be done through University Bank Account provided in the Admission Letters. Do not be deceived or conned by fraudsters to send money via M-Pesa
See also