SEKU Repository: This is a digital directory of South Eastern Kenya University (SEKU). The SEKU Digital Repository allows students, scholar, and other people to access all the digital resources of SEKU.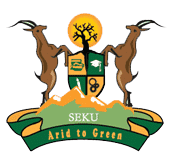 This is a digital service that collects, preserves, and distributes the digital material. Repositories are important tools for preserving an organization's legacy; they facilitate digital preservation and scholarly communication.
SEKU Repository
The SEKU Repository URL is http://repository.seku.ac.ke. Students must type this URL to access the resources. However, all the documents are in PDF file. To access these resources students must download and install acrobat reader.
Select a community to browse its collections.
See also