Higher Education Loans Board (HELB) Kenya allows students to download their Application form from online. Applicants may download the Application Form in PDF format from HELB portal online. Students should also know the HELB Application process for 2023/2024 academic year.
HELB Application 2023/2024
Higher Education Loans Board (HELB) has their own load cycle process. All applicants should register their self in HELB portal and apply for loans within helb application deadline.
KCSE Results Released.
Students Receive Admission Letter.
Students apply for HELB Loan online on www.helb.co.ke
Students submit signed the hard copy loan application form for verification.
Automated allocation & awarding of loans followed by disbursement.
LOANS
Students in Session
Students apply online for subsequent loan www.helb.co.ke
Loan Repayment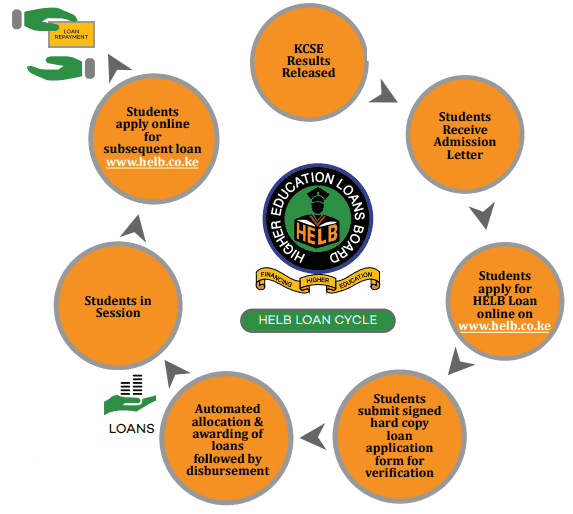 HELB Application Form 2023/2024
The Higher Education Loans Board (HELB) Kenya having a different application form for different types of loans. Application form for students may have a different format for application form for employed applicants.
First Time Undergraduate Loan Application Form
Tvet Loan / Bursary First Time For Tertiary Institutions Application Form
HELB Postgraduate Scholarship Application Form
Afya Elimu Loan Review Application Form
Tenwek Hospital School Of Health Sciences Application Form
Trf For Civil Servants Application Form
Alternative Loan For Salaried Undergraduates Application Form
Alternative Loan For Salaried Postgraduates  Application Form
Kra Staff Loan Application Form Application Form
Visa Oshwal Scholarship Application Form
How to Download and Print the Application Form?
The application must be filled up in online by using HLEB Portal. It is a lengthy step by step process to download and print your required application form.
If you do not have any Account then check HELB Account Creation and Registration.
After login look at the top main menu.
Click on "Go to Application"
Select the type to load you wanted to apply.
Fillup step by step application.
1. Education Details at Education section
2. Parent Details at Parents section
3. Family Expenses at Family section
4. Institution Details at Program section
Finally, Submit your application form.
Download the PDF and Print it.
[su_note]
Important Note
1. The HELB loan application form is FREE
2. The application form is only accessible through the HELB student portal on www.helb.co.ke
3. DO NOT PAY anyone to process your HELB loan application.
4. In case of any queries, seek assistance ONLY from HELB officers
[/su_note]
Conclusion
Before applying any loan applicants must read HELB handbook. It gives general information for Students, Loanees, and Employers on their obligation in fulfilling the requirements of the Higher Education Loans Board Act (1995).
See also