Kibabii University Application Form 2023/2024. Students are required to download an individual application form. All students are required to fill up the application forms and submit it to the Admission Office
Kibabii University. All applicants can download the application form in PDF from the university portal or may obtain the Application Forms from the Office of the Registrar (Academic Affairs).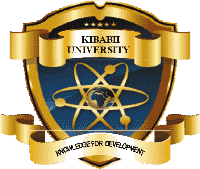 Kibabii University Application Form
This admission offer is made on the basis of the statement of your qualifications as presented by Kenya
National Examination Council (KNEC) or other approved examination bodies. As a student, you will be expected
to register for courses in your degree programme. Any change of Faculty or Department will be permitted only
by approval of the University Authorities.
Upon payment of nonrefundable fee of Kshs. 2,000 for Graduate and Post Graduate Diploma Programme, Kshs 1,000 for Undergraduate Programmes, and Kshs. 500 for Diploma, Certificate & Short Courses in the following bank account.
Bank Name: Kenya Commercial Bank
Account No: 11 37 40 83 75
Branch: Bungoma
---
Completed Application Forms will be submitted alongside the bank deposit slips to the Office of the Registrar, Academic Affairs
The Admissions Office
Kibabii University
P.O. Box 1699 – 50200
BUNGOMA
Tel: 020–2028660/0708–085934/0734 831 729
Download Kibabii University Application Form
A bona fide student will be considered to be one registered in the University during a current academic year. Students unable to register in the academic year may Defer their studies or take an Academic Leave for that
academic year. This should be done by filling a deferment/readmission form and submitting it to the office of
the Registrar (Academic Affairs), stating reasons for deferment to the next academic year.
The deferment period shall be one (1) academic year renewable continuously up to a maximum of three (3) academic years. Reasons for deferment shall normally be due to: Financial reasons; compassionate reasons; medical reasons (provide medical documents) or any other reason acceptable to Senate.
KNUT Application Form

KUPPET Application Form

Doctor-Philosophy Application Form 

Masters Programmes Application Form 

Post Graduate in Secondary Education Application 

Undergraduate Programmes Application 

Diploma and Certificate Programmes Application form 

KASNEB Application Forms

Computer packages  Application Form 
Important Document list
No student will be registered without producing the following: –
(a) Original and a copy the Admission Letter.
(b) Original and a copy of KCSE Certificate/Result Slip. The original document will be returned to the student
after verification of its authenticity.
(c) Students acceptance of admission offer form – KIBU/1
(d) Signed Students Regulation Declaration – KIBU/2
(e) One copy of the completed Student Personal Details Form KIBU/3
(f) The Entrance Medical Examination Form KIBU/4.
(g) Original and a copy of National Identity Card or Birth Certificate for those who are under 18 years.
See also