Kibabii University (KIBU), Kenya Contacts, Location, and Full Address: Check KIBU full address and contact information. Kibabii University is a public university in Kenya located in Bungoma County along Bungoma-Chwele highway.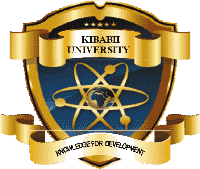 Kibabii University Location
Kibabii University is situated in Bungoma County, eight kilometers from Bungoma town along the Bungoma – Chwele Road.
The University is served by public transport (matatus) from the Bungoma Town Centre Bus
Station. You may alight at Kanduyi Market then take a matatu heading to Chwele and ask that you alight at the
Junction leading to Kibabii University.
When to come?
Students are expected to arrive between 8:00 a.m. to 5:00 p.m. on an opening day for registration. Any student arriving after 5:00 p.m. will not be registered nor be given accommodation until the following day
Kibabii University Address
Kibabii University Contacts
See also