Kibabii University Examination Results (Student Portal): The KIMU is responsible for publishing examination results after each semester for the students. Kibabii University ensure that the results of students' assessments are timely processed and published as far as they relate to progression or awards of the University.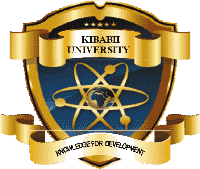 Kibabii University Exam Results
Any assessment, written, oral or observed, that is taken into account in evaluating the final results in a course or programme. Examinations include in-course and end-of- course.
The KIBU Senate shall have the overall authority in the declaration of examination results as well as the classification of awards.
If a student fails to present their student identification card, they shall produce it within 24 hours to the relevant Invigilator. If the student fails to do so, his/her results for that examination shall be canceled.
After the release of examination results, a student may request a re-assessment to the Department.
KIBU Examination Results (Student Portal)
Whenever the examination results are published by the Kibabii University, students may check the provisional results through KIBU Student Portal online.
Open your web browser and type "www.kibu.ac.ke" in the address bar.
At the main menu click on "Student Portal"
Now Kibabii University Student Portal Login page will appear.
Now enter your user ID and Password.
Finally, click on the login button.
After login click on "Academic" option.
Under this option click on "Examination Results"
Note: if you don't find your results please contacts the respective authority of KIBU.
Kibabii University Transcripts
An academic transcript listing all courses which a student has taken and their associated marks will be included and issued to a deserving student who has paid up the required fees.
An academic transcript shall be issued to a deserving student after graduation.
An academic transcript will indicate the Academic Year in which a course has been assessed, its credit value and the definition of the score bands.
See also