Kabarak University Student Portal Login @eserver.kabarak.ac.ke: We will guide you, how to login into @Kabarak University Student Portal and in case you forget your ID and Password then how to reset your password.
Kabarak University Student Portal
This Kabarak University Student Information Management System is also known as "Kabarak University Student Portal". Helps students for registration of course, view examination results, payment of fees e.t.c.
Graduation Ceremony: Graduation candidates are required to apply online through the students' portal.
At the end of each semester, grades in form of the examination result slips are made available online to students through the University Student Portal. To maintain confidentiality only course grades earned by the student and NOT the actual marks will be made available to the students.
Login into Kabarak University Student Portal
To login into the Kabarak student portal, candidates should know their registration number and the password.
Step one: Open the URL eserver.kabarak.ac.ke
Step two: Enter your Registration Number
Step three: 

Password and Login successfully
If you  Forgot Password
Follow the above step
Instead of Login, click on  Forgot Password
Now a new Activate  Account /  Forgot Password page will open.
Here you have to enter your " Registration Number" and click on "Submit".
Now check your registered "email id" a new password generate email from the portal will be there in your Inbox,
Open the email and "Click on the URL "Generate New Password"
At the final step, Chose a new password and login.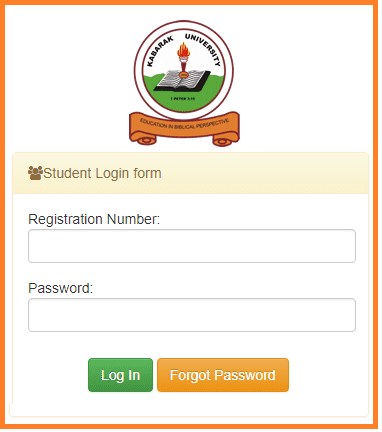 Note: If you did not assign any email during the online registration, then you will get an error from the portal saying "No email has been found to send the reset password. Please contact the ICT office administrator".
Check Other Latest Topics