Students of Kabarak University should check the latest Fees Structure 2023/2024 in university prospectus. However, you may check this For Fees Structure. In addition, we will guide you how you can exactly know your accurate Fees Structure. Here we have included all courses (Includes Undergraduate and Postgraduates) and SP (Self-Sponsored) and GP (Government-Sponsored) Students Fees Structure.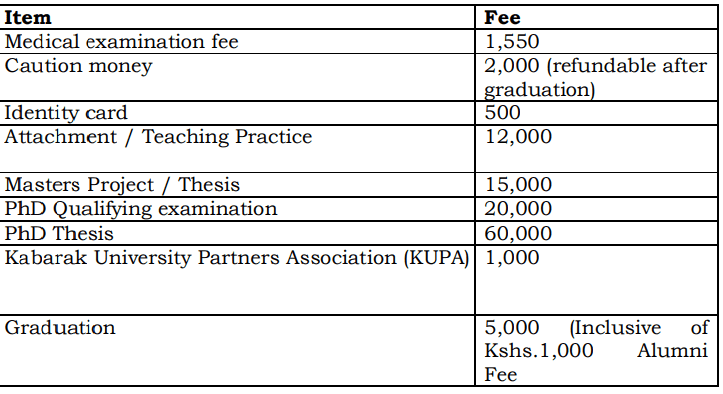 Kabarak University Fees Structure 2023/2024
Fees: Fee structures for both GS and SP students are available on the Kabarak University
website. Copies will be available to the students at the time of registration. Students are
required to pay tuition and administrative fees before or on registration date. On an important note, there is no point to login Kabarak University student portal to download the fees structure.
Type of Fees
Tuition and administrative fees are payable by the student directly to the University.
Administrative fee does not include accommodation and catering charges.
Registration fees with regulatory bodies and specific learning instruments shall be
required.
Per unit charge is payable directly to the University by the student. This is applicable if the student registers a retake.
Graduation Fee – Kshs.5,000 – payable before graduation.
Students in the School of Law shall pay an additional Kshs3000.00 for Kabarak
University Law Student Association – Payable once in Y1S1 only.
The University reserves the right to adjust fees from time to time.
Other Charges may include Medical examination fee, Caution money, Identity card, Attachment / Teaching Practice, Masters Project / Thesis,  Kabarak University Partners Association (KUPA) e.t.c.
Type of Kabarak University Fees Structure:
There are three types of free structure. Just click on the link below and download the latest fees structure.
See also: