Kirinyaga University Graduation List and Ceremony 2023: Students whose current programs will enable them to complete successfully the requirements for graduation in their degree, diploma or certificate programs, must submit a fully completed "Request to Graduate " form to the Registrar's ASA Office.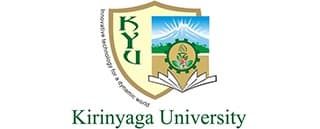 Kirinyaga University Graduation Ceremony
Kirinyaga University wishes to inform all Graduands who qualified for conferment of various degrees and award of diplomas and certificates that the 2nd Graduation Ceremony will be held on Friday, 12th October 2018 at Kirinyaga University Campus grounds. Click on the link below to download the announcement for more details.
KYC  2nd Graduation Ceremony 
ONLY Graduands, who will have cleared with all divisions of the University by Monday, 28th September 2018, will be allowed to graduate.
Application forms for hire of graduation gowns may be downloaded from University website www.kyu.ac.ke. Graduands who will have cleared in all divisions of the University will be issued graduation gowns at their respective Dean's Offices from 1st -10th October 2018  between 8.00 a.m. and 5.00 p.m.
All graduation attire must be returned to the University on or before 29th October 2018 after which a penalty fee of Kshs. 500.00 per day shall be charged.
Any loss or damage to the graduation attire will be charged at full cost to the graduands.
 GRADUATION REHEARSALS: All graduands MUST attend Graduation Rehearsals Rehearsal on October 11, 2018 at 9.00 am at the university grounds
PUNCTUALITY: All graduands, their parents and guests MUST be seated by 7.30 a.m. Only Graduands dressed in full academic attire will be allowed access to graduation grounds..
See also