Kenya Methodist University (KEMU) Grading System (For all courses).  The University has their own grading system for representing students academic score or marks in individual subjects. All the students should know how GPA and Grading System works in Kenya Methodist University.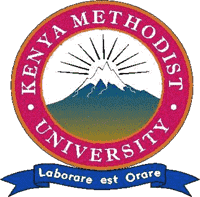 KEMU Grading System
KeMU uses the Grade Point Average (GPA) system. Trimester GPA is a measure of performance of a student
for a trimester. A GPA is a number between 0 and 4 inclusive. Cumulative GPA is a measure of performance of
the student for a number of trimesters. Like Trimester GPA, Cumulative GPA is a number between 0 and 4 inclusive.
Each course is assessed based on the Continuous Assessment Tests (30% – 40%) and the Trimester Examinations (60% – 70%) and given a letter grade. The letter grade E denotes a failure grade and has a numerical value of zero. To calculate the GPA, each letter grade is assigned a points value, the sum of which is divided by the sum of the credit hours of the courses done to give the GPA.
The letter grades with their corresponding numerical values (including pluses), form an eight-step grade-point
scale as shown below: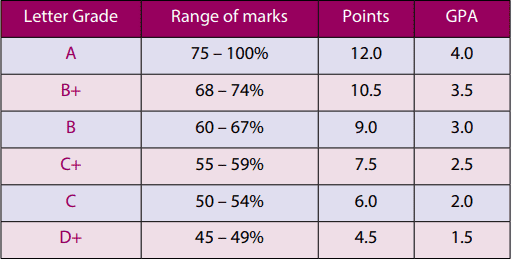 A student who has not taken the coursework assessments or attended classes for at least 80% of
contact hours of teaching time shall not be eligible to take final examinations.
The Trimester GPA is computed as follows:
First, multiply the credit hours of each course taken during the trimester by the corresponding number
value of the letter grade of the course. Second, sum up all these products. This sum is called trimester
points. Third, sum up the credit hours of all the courses taken during the trimester. This sum is called trimester credit hours. Then, finally, divide trimester points by trimester credit hours. The resulting number is trimester GPA of the student for that particular trimester.
Cumulative GPA of a student for a certain number of trimesters is computed in the same way as for the
Trimester GPA, except that in the case of cumulative.
Cumulative GPA is below 2.00 in the first academic year. Academic warnings are given by the Dean of Faculty in writing on the recommendation of the Faculty Board
The letter grades having no corresponding numerical values are the following:
A = Abandoned course = No value
W = Withdrawn course = No value
T = Audited course = No value
P = Passed course on Pass/Fail no credit basis = No value
Q = Failed course on Pass/Fail no credit basis = No value
R = Referred
r = Repeated
F = Supplementary
I = Incomplete course
See also