Kenya Methodist University (KEMU Application form: KEMU uses a general application form (Online and Offline) for the admission into various diploma and degree courses at Kenya Methodist University Main Campus, Nairobi Campus, Nakuru Campus, Mombasa Campus, Nyeri Campus. Students may download these application form in PDF file.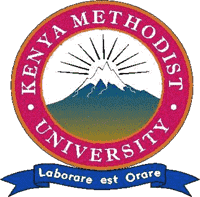 KEMU Admission 
A student is admitted into a programme when he or she meets entry requirements into that programme and level. Admission into a programme is done before the beginning of each Trimester. Admission into Kenya Methodist University shall be conducted under the guidance of the Senate.
Admission requirements for Postgraduate Programmes are stipulated in the 'Common Regulations and Procedures for Postgraduate Studies, published separately.
Application Procedure
All applicants must complete an application form either electronically or in hard copy and submit it to the Registrar. The application forms are available at the Office of the Academic Registrar, Meru and KeMU Satellite Centers – Nairobi, Nakuru, Nyeri, Mombasa or other designated teaching sites.
He/she is admitted into that programme and level, He/she has been assigned a registration number upon payment of requisite fees.
Applicants admitted are required to have the official letter of offer together with the original copies of certificates and testimonials at the time of registration. Admitted international applicants shall submit or mail certified copies of their certificates and testimonials. They must also submit certified government photo ID (for Kenyans) or any other form of official identification (for international students) and other relevant documents.
A continuing student is registered upon payment of requisite fees and signing of the nominal roll. A
student is enrolled when he/she has been admitted
Minimum Admission Requirements
Undergraduate Programmes: KCSE C+ (plus) or equivalent qualifications
Postgraduates Programmes: Masters: At least a Bachelor's degree; 2ndclass (upper division) or its equivalent from a recognized University
Diploma Programmes: KCSE C (plain) or its equivalent qualifications
Certificate Programmes: KCSE C- (minus) or its equivalent qualifications
Download Application Form
• All completed application forms should be addressed to:
The Registrar (Academic Affairs), Help: Online Application – Email: info@kemu.ac.ke
KEMU- Main Campus, P.O Box 267 – 60200 Meru.
Nairobi Campus, KeMu Hub, P.O Box 45240-00100, Nairobi
Nakuru Campus, P.O. Box 3654 – 20100 Nakuru
Mombasa Campus, P.O Box 89983-80100, Mombasa
Nyeri Campus, P.O. Box 2285 – 10100 Nyeri
KEMU Application Form Online-Apply
 KeMU Online Application Portal. In order to serve you better, KEMU have deployed this system that you can use to securely apply for admission to our various programmes via the Internet. Every application submitted through this Portal is immediately assigned to an admission staff and a unique ticket number is generated.
Students can use this ticket number to track the progress and responses to your application online. For your reference, we provide complete archives and history of your application, thus a VALID Email Address and Phone Number is required to submit an application.
Apply Online
Check Application Status
See also