Kirinyaga University (KYU) Kenya Courses Offered 2023/2024: The university runs a total  17 Programmes under the Undergraduate Degree. However, Kirinyaga University offers a wide variety of career-oriented programs at the certificate, diploma and degree level.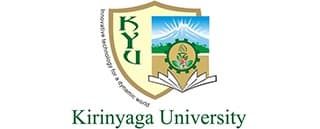 Kirinyaga University Courses Offered
The main objective of the University is to train and equip Kenyans with knowledge and innovative skills through research and quality academic programmes and we have six schools whose aim is to mold students into fine graduates. These are the School of Engineering and Built Environment, School of Computing and IT, School of Hospitality and Textile Technology, School of Business and Economics, School of Pure and Applied
Sciences and School of Health Sciences.
Total Number of Schools: 5 schools namely:
School of Business and Economics
School of Pure and Applied Sciences
School of Health Sciences
School of Hospitality and Textile Technology
School of Engineering and Built Environment
Undergraduate Degree programmes: 17 Programmes
Total Enrolment: over 2,500 Students
SCHOOL OF BUSINESS AND ECONOMICS
POSTGRADUATE PROGRAMMES
| | | |
| --- | --- | --- |
| S/ | NAME OF THE PROGRAMME | DURATION |
| 1. | Doctor of Philosophy in Business Administration | 3 years |
| 2. | Masters of Business Administration |  4 Semesters |
UNDERGRADUATE PROGRAM
S/
NAME OF THE PROGRAMME
DURATION
1.

Bachelor of Commerce

8 Semesters
2.

Bachelor of Science in Human Resource Management
Bachelor of Science in Entrepreneurship

8 Semesters
3.

Bachelor of Business Management

8 Semesters
4.

Bachelor of Enterprise Management

8 Semesters
5.

Bachelor of Purchasing and Supply Management

8 Semesters
DIPLOMA PROGRAMMES
S/
NAME OF THE PROGRAMME
DURATION
1.

Diploma in Business Management
Diploma in Human Resource Management
Diploma in Public Relations
Diploma in Entrepreneurship

4 Semesters
CERTIFICATE PROGRAMMES
S/
NAME OF THE PROGRAMME
DURATION
1.

Certificate in Business Management
Certificate in Human Resource Management
Certificate in Public Relations
Certificate in Entrepreneurship

1 Semester
SHORT COURSES
S/
NAME OF THE PROGRAMME
DURATION
1.

Proficiency Certificate in Leadership and Management
Proficiency certificate in supervisory skills
Proficiency Certificate  in Governance and Administration for Public Officers
Proficiency Certificate in Management for Effective Service Delivery

2 Weeks
SCHOOL OF HEALTH SCIENCES
DEGREE COURSE
| | | |
| --- | --- | --- |
| S/ | NAME OF THE PROGRAMME | DURATION |
| 1. | BSc. Forensic Science | 8 Semesters |
| 2. | BSc. in Clinical Medicine & Community Health (Direct Entry) | 12 Trimesters |
| 3. | BSc. Clinical Medicine & Community Health – (Mature Entry)t | 8 Trimesters |
| 4. | BSc. Community Health  & Development | 8 Semesters |
| 5. | BSc. in Health Information Management & Informatics | 8 Semesters |
DIPLOMA AND CERTIFICATE COURSES
S/
NAME OF THE PROGRAMME
DURATION
1.
Diploma in Human Biosciences
Options1.     Biochemistry2.     Biotechnology
6 Semesters
2.
Diploma in HIV Management
2-Semesters +
Field attachment
3.
Diploma in Community Health & Development
6 Semesters
4.
Diploma in Clinical Medicine & Surgery
9 Trimesters
5.
Diploma in Health Information Management & Informatics
3 Semesters
PROFESSIONAL COURSE
| | | |
| --- | --- | --- |
| S/ | NAME OF THE PROGRAMME | DURATION |
| 1. | Molecular Diagnostics | 2 weeks Full time |
| 2. | Total Quality Management in Clinical Laboratories | 2 weeks Full time |
SCHOOL OF PURE & APPLIED SCIENCES
POSTGRADUATE PROGRAMMES
| | | |
| --- | --- | --- |
| S/ | NAME OF THE PROGRAMME | DURATION |
| 1. | Masters of Information Science | 2 Academic years |
| 2. | Master of Science in Statistics | 2 Academic years |
UNDERGRADUATE PROGRAMMES
| | | |
| --- | --- | --- |
| S/ | NAME OF THE PROGRAMME | DURATION |
| 1. | Bachelor of Science in Analytical Chemistry | 4 Academic years |
| 2. | Bachelor of Science | 4 Academic years |
| 3. | Bachelor of Science in Information Science | 4 Academic years |
| 4. | Bachelor of Science in Applied Statistics | 4 Academic years |
| 5. | Bachelor of Science in Financial Engineering | 4 Academic years |
| 6. | Bachelor of Science Statistics | 4 Academic years |
| 7. | Bachelor of Science Mathematics and Computer Science | 4 Academic years |
| 8. | Bachelor of Science Actuarial Science | 4 Academic years |
| 9. | Bachelor of Science Information Technology | 4 Academic years |
| 10. | Bachelor of Science Computer Science | 4 Academic years |
| 11. | Bachelor of Science Business Information Technology | 4 Academic years |
DIPLOMA PROGRAMMES
| | | |
| --- | --- | --- |
| S/ | NAME OF THE PROGRAMME | DURATION |
| 1. | Diploma in Information Technology | 6 Semesters |
| 2. | Diploma in Business Information Technology | 6 Semesters |
CERTIFICATE PROGRAMMES
| | | |
| --- | --- | --- |
| S/ | NAME OF THE PROGRAMME | DURATION |
| 1. | Certificate in Information Technology | 4 Semesters |
| 2. | Certificate in Business Information Technology | 4 Semesters |
SCHOOL OF ENGINEERING AND BUILT ENVIRONMENT
DIPLOMA & CERTIFICATE PROGRAMMES
S/
NAME OF THE PROGRAMME
DURATION

Diploma in Building Construction
Diploma in Quantity Surveying

6 Semesters
2.

Diploma in Civil Engineering
Diploma in Architecture
Diploma in Electrical Engineering
Diploma in Mechanical Engineering

7 Semesters
3.

Certificate in Architectural Studies
Certificate in Building Construction

3 Semesters
4.

Certificate in Electrical Engineering
Certificate in Automotive Engineering

4 Semesters
SCHOOL OF HOSPITALITY AND TEXTILE TECHNOLOGY
UNDERGRADUATE, DIPLOMA & CERTIFICATE PROGRAMMES
S/
NAME OF THE PROGRAMME
DURATION
1.

BSC. In Fashion Design and Textile Technology

8 Semesters
2.

Diploma in Fashion Design & Textile Technology
Diploma in Food & Beverage  Management
Diploma in Hospitality Management

4 Semesters
3.

Certificate in Fashion Design & Textile Technology
Certificate in Food and Beverage production Services and Sales
Certificate in Catering and Accommodations Operations

2 Semesters
SHORT COURSES
S/
NAME OF THE PROGRAMME
DURATION
1.

Apparel accessories
Interior design and fabric decoration
Basic cookery
Waiters' proficiency

1 Month
See also