Download and apply RVIST Courses in Application Form for 2023/2024 academic year. The Rift Valley Institute of Science and Technology (RVIST) is a giant institution offering a total of over 42 different courses in Higher National Diploma, Diploma, Craft and Artisan Programs. In addition to the full-time courses, the Institute also offers a wide range of part-time and in-service classes both at our town campuses and the main campus. Click here to download a prospectus for the courses we offer throughout the year.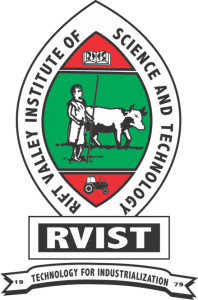 RVIST Courses
The Institute has two campuses offering both full-time and part-time in a wide range of courses in Higher Diploma, Diploma, Certificate as well as Tailor-made courses and Consultancies.  These courses are designed to provide the requisite knowledge and skills to empower the youth and contribute to National Development. There are 9 admitting Departments namely;
Agricultural Education and Extension
Agricultural and Mechanical Engineering
Building and Civil Engineering
Health and Applied Sciences
Electrical and Electronics
Information Communication Technology
Liberal Studies
Hospitality and Tourism Studies
Entrepreneurship and Business Studies.
RVIST Application Form
We also offer Part time classes (evening & weekends) for all Certificate and Diploma courses above (Town Campus only). Those applying for KASNEB/ KISM courses for the first time to register with relevant bodies.
Apply to: The Principal RVIST P O BOX 7182 NAKURU, enclosing copies of ID card, Birth Certificate and Academic certificates.
Application fee of Kshs.500/- to be deposited in:
RVIST Main Campus: CO-OPERATIVE BANK OF KENYA A/C Nakuru Branch 01129087643400, Nakuru/Kericho Campus: KENYA COMMERCIAL BANK 1101786221 A/C Nakuru Branch, Eldama Ravine Campus: ERAVTTI A/C ELDAMA RAVINE branch EQUITY BANK A/C No. 1310276606399 or TRANSNATIONAL BANK A/C No. 281308001.
Deposits may be made at any branch countrywide Include your mobile number in your application letter.
Accommodation is limited and only available at the Main Campus.
For more details visit our website www.rvist.ac.ke/ www.ertvc. ac.ke or call 0720668238 (Main Campus) or 0724769888 (Nakuru) or 0799641313 (Kericho) or 0713 546 595 (Eldama Ravine)
Note: Rift Valley Institute of Science and Technology does not discriminate on account of gender or disability.
Download
See also