Africa Nazarene University (ANU) Grading System, GPA, and Transcripts: The ANU has their own Grading System and GPA Points value for representing the score of each subject in the transcripts. All the student of Africa Nazarene University should know their Grading System and GPA Points.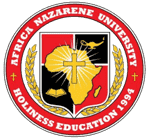 Africa Nazarene University Grading System
Student grade reports and transcripts reflect letter grades and grade points. Percentages are guidelines for use in units where appropriate. Marking symbols are letter grades including pluses and minuses with the following numerical values and meanings.
Marking Symbols and Values

Grade
Percentage
Grade Points
Value
Description
A
80-100%
4.0
Distinction
Creative mastery of the material
A-
70-79%
3.7
B+
67-69%
3.3
Superior
Good grasp of the material, showing initiative
B
63-66%
3.0
B-
60-62%
2.7
C+
57-59%
2.3
Above average
C
53-56%
2.0
Average
Adequate grasp of material, the minimum requirement met
C-
50-52%
1.7
Below Average
D+
47-49%
1.3
Danger of Failure
Inadequate grasp of the material and/or minimum requirements not met
D
43-46%
1.0
D-
40-42%
0.7
F
0-39%
0.0
Failure
Work not acceptable for credit
P*
40-42%
0.7
Supplementary    passed at undergraduate,diploma orcertificate level
C*
56-59%
2.0
Supplementary    passed at post graduate level
ANU GPA and Transcripts
Each trimester grade points are averaged to determine a student's GPA (grade point average) for that trimester. The cumulative GPA reflects all university-level units attempted for all trimesters registered.
 Additional Marking Symbols on Transcripts

Mark

Grade Point
Value

Description

AU
0.0
Audit
Participation in unit for enrichment but no credit
CH
0.0
Challenge
Pass for challenged unit
CR
0.0
Pass
Pass for pass/fail  units
I
0.0
Incomplete
Extension granted according to ANU policy and procedure
TR
0.0
Transfer
Credit given for unit on the basis of work completed at   another university, granted according to ANU policy and procedure
PR
0.0
Proceed
Student may continue with academic work
WD
0.0
Withdrawal
Withdrawal or change of programme
See also