Egerton University Admission List 2023/2024 will be prepared by the KUCCPS (Kenya Universities and Colleges Central Placement Service) for Government sponsored students. All the government-sponsored students looking for admission at Egerton University should check the latest Admission List for their selection.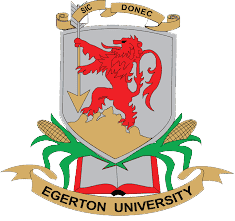 Egerton University Admission List
First students who have selected this university through KUCCPS Student Portal, they are required to download the Egerton University Admission List for the confirmation.
To apply for admission to Egerton University Download the application forms from www.egerton.ac.ke, pay the required application fees and submit a duly filled form to the Registrar (Academic Affairs).
Students may also apply to Egerton University through the Online Application. The university allows the students to apply in Programme through Application Portal.
Download Egerton University Admission List
For KUCCPS Students use your KCSE index Number (00000000000/2017) should download their "Egerton University Admission List" from the portal.
However, the university will not send admission list by post to the Government sponsored students.
All applications for registration shall be processed in the first instance through the relevant Department in which registration is sought. The Department shall then forward all such applications with appropriate comments to the Faculty/School Institute/Campus Board concerned for approval and onward transmission to the Board of Postgraduate Studies.
See also: